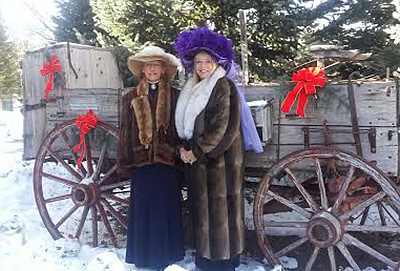 Gail and Jamie have been offering tours of downtown Breckenridge since 2009. Extensive research has been done to offer you an accurate and exciting tour.
Jamie has been a local of Summit County since 1972 and is till passionate about the mountains and the history of the area. Gail is a native of England and has lived in Breckenridge since 1999. She has been trained as a Certified Interpretive Guide through the National Association of Interpreters and has recently written, and had published, a book entitled "Haunted Breckenridge".
Both Gail and Jamie love sharing their stories of the good, the bad and the ugly times of historic Breckenridge – in costume, of course!
They are also available for living history presentations for conferences, lectures and private groups. Some of the characterizations offered: Mrs. Engle the banker's wife; Madam May Nicholson; Katie Briggle, Victorian socialite; Miss Whitney, lady of the night. Call for more information.